Christine P. White, MD, FAAP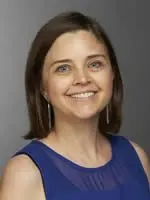 Dr. Christine White has been with Johnson County Pediatrics since 2003.
For several years Dr. White's primary focus was seeing patients in the morning walk-in clinic. She offers appointments for her patients all day Monday, Wednesday and Friday, and during the morning on Tuesday. She is accepting new patients.
Born in Wichita, Dr. White graduated in 1993 from the University of Kansas with a Bachelor of Arts in biology. She earned a medical degree from the KU School of Medicine in 1997. Her residency was at Carolinas Medical Center in Charlotte, N.C.
"I like pediatrics because the patients are so much fun," Dr. White says. "I also like the fact that they have not messed up their bodies with bad lifestyle habits. I like being able to influence their choices, and to help them grow into healthy and happy adults."
When looking for a pediatrician, parents should seek out someone who listens to them, she says. Her simple, yet enthusiastic, advice to new parents is to "Relax and enjoy your kids."
In her free time Dr. White enjoys reading, walking for exercise, watching movies (everything from romance to drama) and spending time with her children. She is very active in volunteer activities.