Welcome to Johnson County Pediatrics!
We are delighted that you are interested in learning more about our growing pediatric practice. All of the physicians are taking new patients. In order to get the most out of your upcoming appointment with one of our providers, please refer to scheduling, our financial policies, and our after hours protocol.
Our History
On a late summer morning September 4, 1973, the doors of Johnson County Pediatrics opened for the first time. Dr. Gerry Wigginton had just completed his residency at Children's Mercy Hospital. This was the first pediatric office in Johnson County. The office was in the basement of the Shawnee Mission Medical Building and had a small waiting room, three exam rooms, a nurse's office, a tiny lab, one restroom, and an office for Dr. Wigginton.
The chart rack was made out of an old record (vinyl albums) rack and had ten charts the first day. The first appointment of the day began at 10:00 am so rounds could begin at the hospital. A two-hour lunch allowed for the completion of rounds and the day ended around 5:30. The office was open every Thursday night for the working moms' convenience.
Employees consisted of Gayle Woods (the nurse) and Ann Wigginton (the receptionist and bookkeeper). We also had two small helpers at times - Tommy and Tammy Wigginton would frequently nap on the floor of the office after preschool. Patients came quickly and the number of charts outgrew the record stand.
Dr. Wigginton has passed away, but his vibrant spirit continues to inspire Johnson County Pediatrics. Thank you Dr. Wigginton for your vision in 1973 and for starting this practice that has become so successful. Dr. Wigginton is pictured below with Dr. Nelson and Dr. Decker.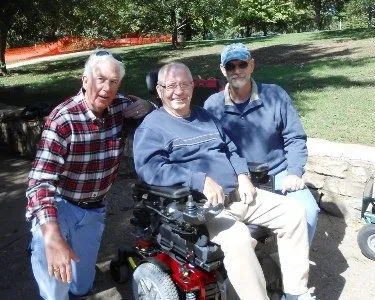 Dr. Bryan Nelson, Dr. Gerald Wigginton, and Dr. Richard Decker
Hospital Affiliations
Shawnee Mission Medical Center • 9100 West 74th Street • Shawnee Mission, Kansas 66204
Children's Mercy South • 5808 West 110th Street • Overland Park, Kansas 66211
---
Medical Disclaimer Concerning Site Contents
The information contained in this online site is intended to provide accurate and helpful health information for our patients. It is only made available for this purpose, but should not be considered complete or as a substitute for medical advice. This information does not cover all diseases, ailments, physical conditions or their treatment. The information is not intended as medical advice for individual problems or for making an evaluation as to the risks and benefits of taking a particular drug.
It does not take the place of a call or visit to our physicians and the information provided by your health care provider. Your health care decisions should be made only after consulting with a qualified physician.
Johnson County Pediatrics specifically disclaims all responsibility for any liability, loss or risk, personal or otherwise, which is incurred as a consequence, directly or indirectly, of the use and application of any of the material on this site.