Stephanie Peters, APRN,CPNP-PC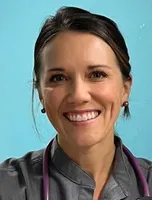 Stephanie Peters wanted to be a nurse as far back as she can remember.
"I was the first person in my immediate and extended family that went into healthcare," she says. "My first job in healthcare was as a certified nursing assistant on a pediatric floor when I was 17 this confirmed how much I wanted to be a pediatric nurse."

Now a nurse practitioner, she has joined Johnson County Pediatrics working in the walk-in clinic.
She works primarily Tuesday afternoons, Fridays and some Saturdays in our clinic. She brings more than 20 years of experience working with children.
After working as a CNA, she transitioned into the Pediatric ICU as a critical care tech while she made her way through nursing school. She spent 15 years as a nurse in the PICU caring for critically ill children, including the past six years in the pediatric ER. A few years ago she decided to finally pursue her dream of becoming a pediatric nurse practitioner.
Born in Redding, California, she grew up in Reno, Nevada, which she considers her hometown. She and her family moved to the Kansas City area in 2016.
"I have a wonderful husband, a sassy (and sweet) daughter who is 11, and three stepsons who are 16, 18 and 20," she says. "We love to travel (mostly Disney and the beach) and try new restaurants!"
Her advice to new parents looking for healthcare – "Find a practice that makes you and your child feel comfortable and allows the time for you to ask questions and voice concerns."