Jill Riffel, MD, FAAP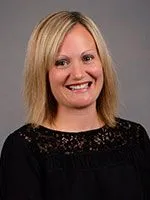 Developing relationships with patients and their families is her favorite part of being a pediatrician, says Dr. Jill Riffel.
She joined JoCo Peds in December of 2011, after practicing for several years in the Kansas City area.
A native of Manhattan, Kansas, she earned a Bachelor of Science degree in nutritional sciences from Kansas State University . In 2005, she graduated from the University of Kansas School of Medicine . Dr. Riffel was a resident in pediatrics at KU, and was chief resident in pediatrics in 2007-2008. Before coming to JoCo Peds she worked at Heartland Primary Care in Kansas City, Kansas.
"I adore children," she says. "Being able to interact with children, developing relationships and helping them grow up healthy is very rewarding."
Dr. Riffel knew from an early age that she wanted to work with children. "A pediatrician appealed to me because I would be able to care for children from birth to college," she says.
A pediatrician should be friendly, caring and interact well with both children and parents, Dr. Riffel says.
"Parents should feel they can openly ask questions and be involved in their child's care," she says.
Dr. Riffel enjoys spending time with her husband, Brannan, and their daughters, Addison, Elliott and Brynley.
She will be seeing patients in the walk-in clinic and by appointment on Wednesdays, Thursdays and Fridays.