Stephanie Karnik, MD, FAAP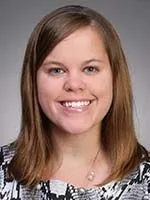 Dr. Stephanie Karnik says she never wanted to be anything other than a doctor.

"I always wanted to be a pediatrician for as long as I can remember," she says. "I love working with children and the innocence, as well as resilience, they have. They are the ones that make coming to work so enjoyable."
Johnson County Peds patients may get a chance to meet Dr. Karnik, when she is working in the Walk-In Clinic. She brings with her nearly a decade of experience in emergency medicine at Children's Mercy Hospital and Clinics. A native of Kentucky, she grew up in Edgewood, which is part of the Cincinnati metropolitan area. Her family still lives in Kentucky.
Dr. Karnik earned a Bachelor of Science in Biology from the University of Louisville, and earned her Doctor of Medicine from the same institution. She moved to the Kansas City area for her pediatric residency at Children's Mercy.

"I thought I wanted to be a pediatric cardiologist - due to my own experiences of needing cardiac surgery as a child, but realized in residency that I liked all aspects of pediatrics," she says. "I found that I enjoyed the challenge of taking care of children at times when they had acute illnesses."
Dr. Karnik will be working Monday, Tuesday morning, Wednesday, Thursday and some Saturdays.

"We are thrilled to have Dr. Karnik on our team," says Dr. Mary Tyson. "Her passion for helping children and families, along with her experience in emergency care make her a great addition to Johnson County Pediatrics."
Her free time is spent with her husband Brian and their three children.
"I enjoy traveling, camping, exploring new places with my family," Dr. Karnik says. "When I get some free time to myself I enjoy reading and doing puzzles."