Luke Engelman, MD, FAAP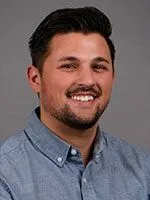 Science class as a youngster may have steered Dr. Luke Engelman toward medicine, but it is children who brought him to pediatrics.
"Kids are so much fun, and a lot of times the appointments are an awesome combination of play and anticipatory guidance," Dr. Engelman says. "I also like that in pediatrics we are oftentimes preventing disease, rather than taking care of adults after lifestyle choices have affected their bodies."
Dr. Engelman joins Johnson County Pediatrics in September, 2018. He offers appointments Monday, Tuesday, Thursday and Friday. Patients may also see him in our walk-in clinic.
Raised in Weatherford, Oklahoma, in the western part of the state, Dr. Engelman earned a Bachelor of Science degree in Zoology Biomedical Sciences from the University of Oklahoma. He went to medical school at OU and completed both his internship and residency at Children's Mercy Hospital.
"I strive to truly get to know patients and their families," he says. "As physicians we are able to take care of patients much better if we understand where certain feelings and emotions are coming from, and if we know how a family will respond to different recommendations."
Dr. Engelman and his wife Jordan have a daughter, Carter, born in May 2018, and a son, Eli, born in October of 2020. They also have an "energetic goldendoodle" named Avett. In their free time the Engelmans enjoy playing a variety of sports. They spend a lot of time outdoors and have a goal of visiting all the US National Parks in their lifetimes.