Mary M. Tyson, MD, FAAP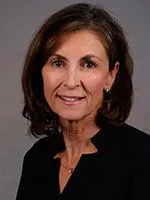 Dr. Mary M. Tyson is into her second decade at Johnson County Pediatrics. Born in St. Louis, Dr. Tyson graduated from Rockhurst College in Kansas City and the University of Oklahoma College of Medicine .
Dr. Tyson started out working with adults, with the goal of becoming a gastroenterologist.
"After three months I knew it was not for me," she says. "My personality was more consistent with the other pediatricians I knew. Kids are fun, generally not responsible for their own illnesses, and although they can get sick fast, they also get better fast. Most of the time the visits are happy visits. I get to watch them grow up."
When considering a pediatrician, Dr. Tyson suggests parents look for someone who is accessible, understanding, likes his or her career, and explains issues clearly. Parents should also consider the entire pediatrics office, including the helpfulness and availability of nurses and other staff members.
Dr. Tyson offers simple advice on how to parent. "Love (it is a verb) your child, and stuff their parachute," Dr. Tyson says. "This means sometimes you have to make hard decisions or be unpopular."
Dr. Tyson enjoys boating, listening to books on tape, exercising, painting, and she wants to learn play the piano and golf. She and her husband Bob have two children – Nick and Lauren.
Dr. Tyson is accepting new patients. She offers appointments on Mondays, Tuesdays, Wednesdays and Thursdays. She offers evening hours on Tuesdays.